ABOUT ME...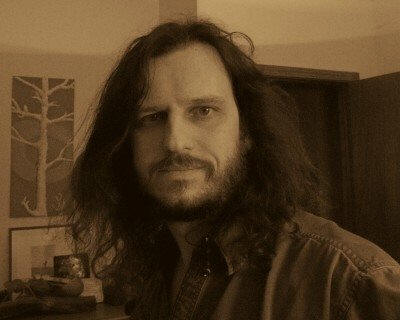 some history...
In 1994, while living in an old, overgrown farmhouse in Okemos, Michigan, I discovered a tattered, purple herb book, left out haphazardly on the kitchen counter by one of my roommates. I began flipping through the book, and within a few weeks had begun foraging through the abundant weeds that covered the property and brewing them into strange tasting teas. Till then, I had little interest in either herbs or health, and so my sudden and growing passion with them was perhaps unusual. In hindsight, I think something in those first sips of strange tea woke in me my passion for plants and their medicine. From those first curious experiences, my hunger to both learn from and serve my green friends has been without end.
I am, in many ways, a self taught herbalist. This is not to say that I'm responsible for learning everything I know myself, but rather that I've never really had any formal training with any other herbalist, gone through any courses, or attended any schools. Though every now and again I get grief from those who value credentials, I hardly view this as a liability. If anything, it has provided me with a unique opportunity to learn from doing, and base my knowledge firmly upon my own first hand experience. My education in herbcraft has been, above all things, experiential. Unable to readily find a teacher (this was in the dark ages before you could look online for people teaching near you), I was left to my senses and intuition. While plenty of time was spent in libraries and bookstores devouring what information I could find, more still was spent wandering through the forests and fields around my various homes in southeast Michigan, learning one by one the plants I shared this land with, and the communities that together they created. This, by far, was (and still is) the most valuable study I've ever engaged in. Being with the plants creates relationships with them, relationships that change entirely one's understanding of their medicinal uses.
That said, at this point in my life with herbs, I've conversed, queried and interacted with so many brilliant plant people, that I can't and don't deny the impact of their teachings and all around coolness on how I practice herbalism. The diversity of their perspectives have deeply enriched my own relationship with this craft, and I deeply thank and acknowledge their flat out coolness (though I'll omit names so as not to leave anyone out of the shortlist).
My approach to the use of herbs blends a folk and indigenous perspective of herbcraft with the eclectic/physiomedical approaches of 19th century American herbalism. I also just pretty much do what makes sense to me. I use (and teach about) mostly local plants I know and trust, though I certainly enjoy a draught of Kava and don't begrudge a plant just cause it doesn't happen to live close by. I place utmost importance in ethical wildcrafting to ensure that the plants I use continue to thrive in their natural habitats, and in creating unique, personalized formulas for the people I work with.
my classes….
I feel the most important offering I can make to the herbs that have taught me so much is for me to teach others to make relationship with the plants that grow around them and receive their own teachings. It is my deepest passion to encourage people to understand the herbs that they share this land with, and to integrate that relationship into every aspect of their lives. That connection, I believe, is what makes for a good herbalist.
My classes, if I do say so myself, are very good. They cover identification, medicinal uses, herbal properties, ethics, history, folklore, preparation, and generally include a plethora (a lot) of handouts, thoroughly explaining the information and ideas covered in classes. They're also taught in a manner that makes sense, using stories, humor, examples, and analogies to make important herbal concepts clear and relatable; something you nod your head to, rather than furious scribble down to figure out later. Questions make my day. Top it off, they're affordable. I never had a lot of money to spend when I was learning about herbs, and I so try not to offer classes I couldn't have afforded to attend. Of course, any amount may be too much for someone... I do several free classes/presentations every year.
If you're interested in learning about herbcraft, check the classes and workshops link and see what's currently happening... I'd love to cross paths in the physical realm.
Also, while I do try to respond to personal email, I do get quite a bit (ok, really, a LOT) and it's just no longer feasible for me to respond to it all. If you have a question about an herb, a condition, or some combination thereof that doesn't require me specifically to answer it, please sign up to Henriette Kress's herblist, the AHG herbstudent list, to which I occasionally post, elaborate, rant, ponder and occasionally pontificate (feel free to follow me on Facebook, too). This'll give you the opportunity to get my opinion plus many others worthy of consideration.

If you need to get ahold of me specifically (about a consult, to schedule a class, of because you want me to come and teach in hawaii), please do call, email, and repeat as needed. I do want to connect, but sometimes I'm simply swamped and things get by me... I ask for your understanding. The life of the herbalist often requires that we act simultaneously as wildcrafter, medicine maker, practitioner, teacher, marketing and advertising coordinator, book keeper, janitor and pee on. Sometimes the grunt work of taking out the garbage gets in the way of the more pressing matters like making all the calls I need to or returning emails. So: persist, and I'll try my best to make it happen. Again, thanks for your understanding here.
blessings...
jim mcdonald
jim@herbcraft.org

wait, were you hoping for some list of my qualifications and academic achievements? Don't really have that anywhere, but here's a "resume" (of sorts)...

other idiosyncratic miscellany...
...and oh yeah; there appears to be another jim mcdonald (we'll call him "false jim mcdonald") who writes about "alternative medicine" and who has some articles online about "colon cleansing". This is not me, and I have a great deal of personal disdain for the whole "I'm toxic and need to cleanse" mindset. So, for the record: you are not toxic, and that ain't me.